Snow Angels have a befriending service in Knutsford.
Our free telephone befriending service is aimed at anyone who is 70+ who is experiencing isolation or loneliness. We also offer practical support and advice.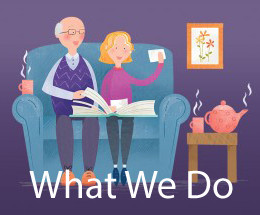 Befriending
Our befriending service runs in Knutsford and links those who are feeling socially isolated and lonely with a friendly volunteer at the end of the phone or in person. Our volunteers will typically call you once a week to check in with you to have a friendly telephone conversation.
Practical Support including benefits in Knutsford:
Attendance Allowance applications
Blue Badge applications and renewals
Sourcing trustworthy cleaners, gardeners, meal delivery services and other home help
Support with IT and technology issues and queries
Referrals
To clarify, we only offer support in Knutsford, and no longer across the whole of Cheshire East. For referrals, please use this link: http://www.snowangels.org.uk/referrals/.  
If you have any questions please email us at info@snowangels.org.uk. 
Support
Snow Angels will continue to provide support for as long as is required. If you no longer require support or wish for befriending to cease, just let us know. We can always re-start if the situation changes.
Volunteers
Our services run thanks to our dedicated team of fantastic volunteers. If you would like to volunteer or know someone who would be interested, please email info@snowangels.org.uk for a volunteer role description and an application form.